How It's Made
Sustainability is
Woven into
Everything We Do
At American Apparel, we believe that making clothing can improve lives while respecting the environment, the planet, the world we live in.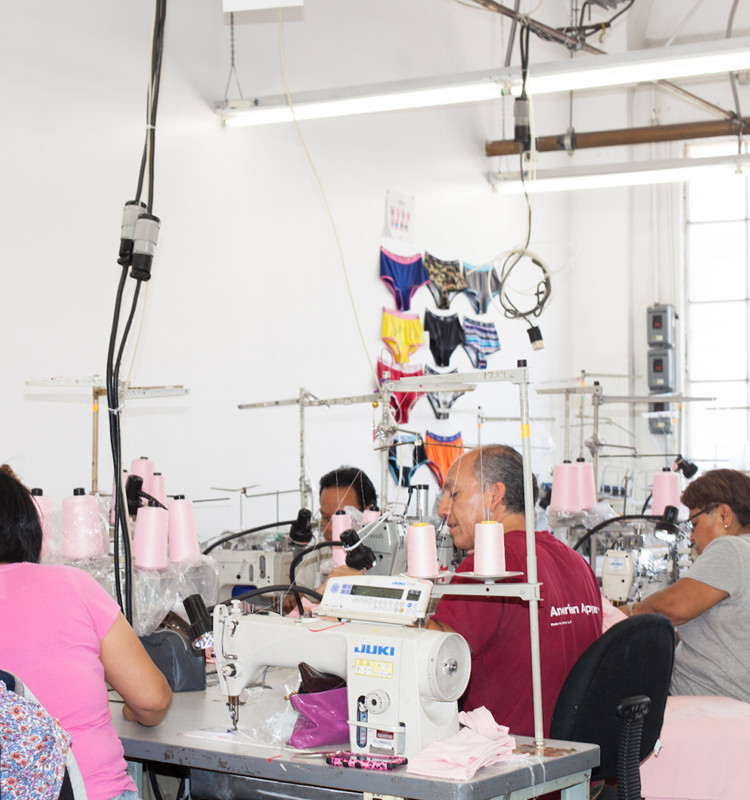 Our product resulted in a 34% reduction in
greenhouse gas emissions since 2010 using 51% of
it's total energy powered by renewable resources.
Sweatshop Free
Our factories provide a safe and stimulating workplace for over 48,000 people around the world. One of our goals is to always provide a positive work environment for all of our employees.
All production employees at our owned facilities earn significantly more than the legally-mandated minimum industry wages in all the countries where we operate. Moreover, in the majority of our locations, our employees receive valuable competitive benefits such as 24-hour access to onsite medical clinics, free transportation to and from work, subsidized meals, and access to financial aid programs. These incentives have had a direct and positive impact on the quality of life of our employees, their families and their communities.
In the coming years, we will continue to develop initiatives that will build on our existing employee relations practices and ensure that our health and safety practices are among the best in the apparel industry. We will continue to strengthen our training and development programs with the objective of creating an increased number of advancement opportunities for our employees.
To learn more visit Our Community page.
Sustainability/Biotop System
The Biotop, a 100% natural way of treating and filtering used water, is located in our Honduran and Dominican Republic facilities. The Biotop system has been in use since these facilities' inception.
The purpose of the system is to treat wastewater through a series of interconnected lagoons. The lagoons naturally stabilize the wastewaters' pH. Our Biotop wastewater treatment process has yielded excellent results while maintaining an extremely rich ecosystem beside our production facilities
Wastewater sent for treatment to the Biotop is monitored in accordance with the following indicators: biological oxygen demand (BOD5); chemical oxygen demand (COD); pH; total dissolved solids (TDS); total suspended solid (TSS); oxygen; oil and grease; temperature; coliform bacteria; colour; Kjeldahl nitrogen; ammonial nitrogen; phosphorus; detergents; phenols; sulfide; and heavy metals. We do not discharge water into any protected rivers and/or wetlands.